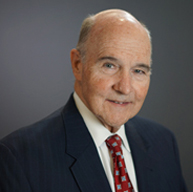 November 7, 1947 - February 16, 2018
PRACTICE AREAS
Labor (Management) and Employment
PRACTICE
Prior to starting the firm in 1996, Wally practiced law at a one of Philadelphia's 20 largest law firms and managed the Firm for six years.
In the "traditional" labor law area, Wally has been the management representative in collective bargaining negotiations, arbitrations, unfair labor practices, mass-picketing and other injunctions, and union elections and decertifications. In the employment law context, Wally has handled hundreds of cases, including trials and appeals, involving such areas as race, sex, age and disability discrimination, sexual harassment, implied contract, wrongful discharge and matters arising under the Fair Labor Standards Act, Title VII and Title IX of the Civil Rights Act, the Occupational Safety and Health Act, as well as common law claims for retaliatory discharge. He has conducted much litigation in the enforcement of non-competition clauses. He has also been involved in some of the more unusual cases of individual employment litigation, such as "negligent hiring" and "negligent firing", drug testing, invasion of privacy and defamation. He has advised clients on all areas of the employment relationship, including the creation of employee handbooks, confidentiality and non-competition agreements, hiring, counseling and firing, and advice to employers on remaining non-union.
The types of clients who have engaged Wally span the spectrum in size and industry, and include one of the nation's largest regional transit authorities, public utilities, multi-employer bargaining associations in the trucking, manufacturing and construction industries, public utilities, colleges, private schools, hospitals, non-profit corporations, and organizations in the manufacturing, service, maritime, printing, computer, retail restaurant, real estate, financial, educational and health care industries. A number of his clients are other law firms. The size of the clients range from the multi-employer groups with thousands of employees, to small employers with one or two employees.
Because much of the practice of labor and employment law is federal in nature, Wally is admitted to and has practiced and has tried cases or argued appeals in many of the district and circuit courts of appeals throughout the United States.
Wally has been active in presenting seminars to large groups, such as the Philadelphia Chamber of Commerce, and bar associations, and to individual companies. He has appeared on radio and television, including the Today Show. Law & Politics and Philadelphia Magazine have repeatedly named him as "Super Lawyer" and the Legal Intelligencer has published a feature article on him.
Like many labor lawyers with a substantial number of clients in the construction industry, Wally also represents a significant number of contractors in construction litigation. His contractor clients include general as well as subcontractors, and the practice spans the breadth of the construction litigation arena. Because he has accrued a substantial number of million dollar or more verdicts, he is often called upon to try complex and high stakes commercial litigation matters.
INDUSTRIES
Construction
Education
Service
Hospitality
Manufacturing
Food Service
Communications
Apparel
Public Utilities
Multi-Employer Bargaining Associations
ADMISSIONS
Supreme Court of Pennsylvania
Superior Court of New Jersey
United States District Court of Arizona
United States District Court for the Central District of Illinois
United States District Court for the Southern District of Indiana, Terre Haute Division
United States District Court of New Jersey
United States District Court for the Eastern District of Pennsylvania
United States District Court for the Middle District of Pennsylvania
United States District Court for the Eastern District of Wisconsin
United States Court of Appeals for the Second Circuit
United States Court of Appeals for the Third Circuit
United States Court of Appeals for the Fourth Circuit
United States Court of Appeals for the Fifth Circuit
United States Court of Appeals for the Seventh Circuit
United States Court of Appeals for the Eighth Circuit
Supreme Court of the United States
EDUCATION
Villanova University School of Law, JD 1972
Lafayette College, BA 1969
AWARDS & HONORS
Order of the Coif
Super Lawyers
ASSOCIATIONS
Pennsylvania Bar Association
Montgomery Bar Association
PUBLICATIONS AND PUBLIC SPEAKING
"Union Avoidance"
"Salting – how to deal with Union Plants in your Organization"
"Prevailing Wage Work – Public Contracting in Pennsylvania"
"Prevailing Wage Work – Public Contracting in New Jersey"
"Union Vulnerability Audits – How Vulnerable is Your Organization"
"Management's Guide to Strikes & Picketing"
"How to Hire and Fire Without Being Sue (Successfully)"
"Sexual Harassment in the Workplace"
"Avoiding Sexual Harassment"
"Age Discrimination in the Workplace"
"A Guide to the Americans with Disabilities Act"
"Wrongful Discharge – New Claims for a New Age"
REPRESENTATIVE MATTERS
Established the right of employees on public projects to maintain the privacy of personally identifying information in the face of demands by Unions for disclosure.
Persuaded the Pennsylvania Supreme Court to draw distinctions between the Contractors and Subcontractors Payment Act and the Prompt Pay Act, delineating that the former applies only to private projects and the latter to public ones
Obtained substantial verdicts for contractors in numerous cases for extra work, delay damages, compression of schedule damages and the like.