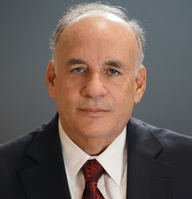 Blue Bell, PA v.+1.267.419.1509
f. +1.267.419.1560
slevin@flammlaw.com
PRACTICE AREAS
Business Transactions & Commercial Finance
PRACTICE
Steve began his career as a Philadelphia Assistant District Attorney where he was assigned to every trial unit including homicide before leaving for private practice with Wolf, Block, Schorr and Solis-Cohen. Steve was invited to join as a Fellow the Litigation Counsel of America, a highly select trial lawyer honorary society composed of less than one-half of one percent of American lawyers. Steve is a member of the Equipment Leasing and Finance Association and has been a speaker at ELFA events on topics related to his practice in addition to speaking events for title insurers and construction executives.
Steve is also a member of several high IQ societies including Mensa and Intertel (The International Legion of Intelligence). He also serves as international President, and is a member and former General Counsel of, the International Society for Philosophical Enquiry (ISPE), an ultra-high IQ think tank limited to those persons that can demonstrate IQ at the 99.9th percentile as measured on standard psychometric tests of intelligence (www.thethousand.com). Currently, there are only approximately 600 qualifying members worldwide. The rank of Diplomate has also been conferred on Steve by the membership of ISPE, ISPE's highest elected rank.
Steve has years of experience with all phases of both complex commercial litigation and transactional law. Among other things in his broad and varied practice, Steve:
Regularly represents and negotiates syndicated transactional matters for a large national truck leasing company, as its General Counsel, that counts among its leasing customers many Fortune 500 companies.

Negotiates and documents numerous commercial loans for construction, fleet automobile leasing, franchise, business acquisition and equipment acquisition.

Provides representation and negotiates large ticket leases (aircraft and ocean going vessels) for a national client.

Represents large bank-affiliated leasing companies in the syndication of pools of assets and the creation and execution of Program Agreements.

Involved as Lender's counsel in more than $20 Million in SBA guaranteed loans yearly at least since 2011.

Regularly represents the Special Assets Group of a number of national and regional banking institutions in connection with middle market loan workouts.

Prosecuted to registration hundreds of trademarks before the USPTO and litigated infringement actions involving a number of famous marks.

Prosecuted many trademarks pursuant to the Madrid Protocol.

Defended national title insurer against mechanics' lien claims throughout Pennsylvania.

Serves as outside General Counsel for a worldwide vertically integrated apparel manufacturer headquartered in New York City with manufacturing facilities in the Peoples' Republic of China and the country of Honduras.

Serves as outside General Counsel for another New York City based apparel manufacturer.

Serves as outside General Counsel for the largest national educational and hobbyist show featuring plastic construction brick toys for consumers.
INDUSTRIES
Banking
Financial Institutions
Entertainment
Technology
Intellectual Property (Corporate)
ADMISSIONS
Supreme Court of Pennsylvania
The New York Court of Appeals
United States District Court for the Eastern District of Pennsylvania
United States District Court for the Southern District of New York
United States District Court for the Eastern District of New York
United States Court of Appeals for the Third Circuit
Supreme Court of the United States
EDUCATION
Duquesne University School of Law, JD 1974
Duquesne Law Review 1972-74 (Member 1972-73; Editor 1973-74)
Temple University, BA 1970
AWARDS & HONORS
Teaching Fellowship for Legal Research and Writing
Duquesne Law School 1973-1974
Temple University – Pi Sigma Alpha
National Political Science Honor Society
ASSOCIATIONS
Pennsylvania Bar Association
Montgomery Bar Association
Fellow, Litigation Counsel of America
Equipment Leasing Finance Association
American Mensa
Mensa International
International Society for Philosophical Enquiry
Intertel-The International Legion of Intelligence
PUBLICATIONS & PUBLIC SPEAKING
Duquesne University Law Review Publications:
"Criminal Law-Evidence-Competency of Minor Witnesses-Obligation of Oath" 11 Duquesne Law Review 701 (1973), Reprinted in "Physical, Emotional & Sexual Abuse of Children, The Multidisciplinary Literature 1932-1993," Garland Publishing, Inc. (1994)
"General Maritime Law and The Wrongful Death Dilemma" 12 Duquesne Law Review 891 (1974)
"Floating' Forum Selection Clauses, The M/S Breman Afloat in the Wake of NorVergence", Stephen Levin and Jonathan Moore, Law Journal Newsletters, Equipment Leasing, May, 2005
"The Irresistible Force Paradox in Play in the Middle Market", Stephen Levin and Anthony L. Lamm, LJN's Equipment Leasing Newsletter, Vol 32 Number 7, August 2013
"The Big Mac", Stephen Levin and Anthony L. Lamm, Law Journal Press, December 2013

GOVERNMENTAL SERVICE
Assistant District Attorney, Philadelphia District Attorney's Office, 1975-1979
REPRESENTATIVE MATTERS
Negotiated and drafted all of the documents related to a $100 million large ticket equipment lease involving a national food distribution company.

Negotiated and drafted all of the documents related to a $100 million revolving line of credit participated in by three major national banks.
Negotiated and documented a $20M asset based line of credit and a $15M guidance line of credit for a major pharmaceutical industry vendor that additionally included provisions for the creation of a Reserve to account for pre-settlement foreign currency risk fluctuations due to the interest rate differential on the spot and forward currency markets.

Created and documented $40 Million Warehouse line of credit involving two bank lenders for national truck and tractor leasing company.

Negotiated large truck and tractor leasing agreements on behalf of client involving some of the largest big box retailers, food and spirits distributors, car manufacturers, industrial gas and petroleum suppliers and other major U.S. industries having a logistical need for large (100-1000) tractor-trailer fleets.

Negotiated and participated in the creation of a Titling Trust formed as a series statutory trust pursuant to Delaware law.

Negotiated bank to bank acquisitions of automobile loan portfolios.

Co-counsel in the internationally publicized lawsuit against a Pennsylvania school district for embedding spying technology in student-issued lap top computers that permitted school officials and others to operate built-in cameras remotely in the homes of students without their knowledge.

Spearheaded due diligence and internal fraud investigation for national bank client.

Authored an early version of the software Shrink-wrap license.

Engaged as principal counsel on behalf of equipment lessor with significant exposure in collection of accounts related to NorVergence fraud.

Was the lead negotiator in the purchase of one of the largest annual Las Vegas trade shows on behalf of an international publishing client.

Negotiated on behalf of international apparel client with the two largest NCAA licensors for college and University branded men's apparel for marketing in all channels of distribution.

On behalf of multiple New York based apparel manufacturers, regularly negotiates licenses with trademark owners of famous brands including Coca Cola, MAC trucks, Source Interlink Magazines (SLAM Magazine), the National Basketball Association, Addidas and Majestic (VF Corporation)

Negotiated the 7 figure sale of a top-flight domain name (today.com) on behalf of an Internet client to one of the three major broadcast television networks.

Participated in the negotiations for the sale of a reality based television show to a cable television network.

Member of Plaintiff's consortium of several U.S. law firms in suit brought to judgment against the Republic of Iran and several of its government entities for its participation in the September 11, 2001 terrorist attacks against the United States.